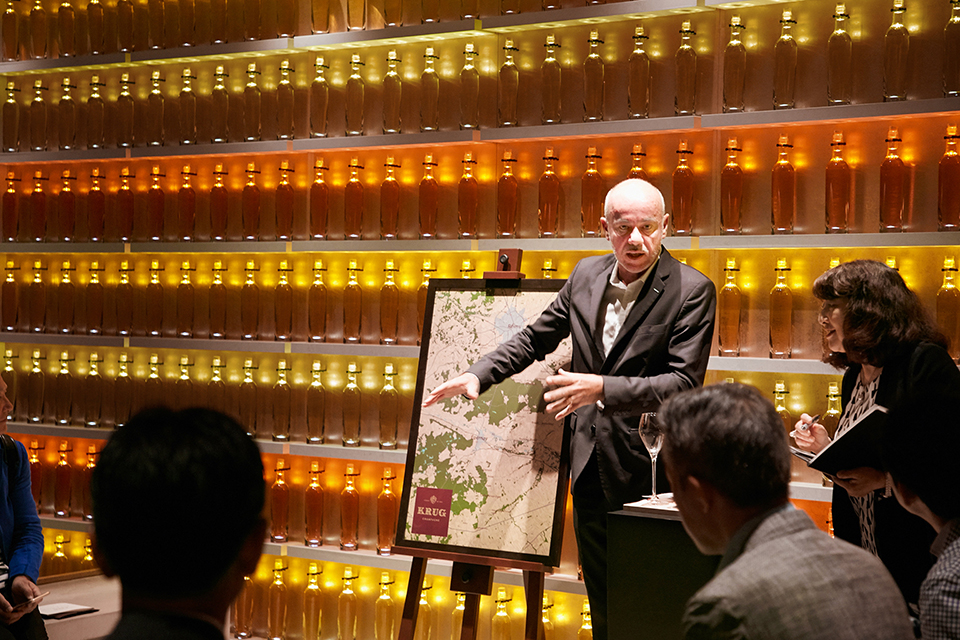 KRUG HOUSE 2019
Date:2019/6/4, 5, 6

Venue:
IWAI OMOTESANDO

Contents:
シャンパーニュメゾンKRUGの6代目当主オリヴィエ・クリュッグと最高醸造責任者のエリック・ルベルがホストとなり、メゾンを再現する"KRUG H OUSE"をプロデュース。Amano Creative Studio inc.は、全体プロデュース、企画、演出、制作、運営をいたしました。
Ryuzuの飯塚隆太シェフのお料理とKRUGのマリアージュを愉しんでいただく他、KRUGのアッサンブラージュをレクチャーするテイスティングルームでは、フランス国立音響研究所(IRCAM)とともにKRUGが制作した音源を使ったインスタレーションを実施。
KRUG HOUSEのために特別に制作したシャンパーニュの地図によって、エリック・ルベルがそれぞれの畑で作られる葡萄とKRUGが歩んできた歴史を語り、KRUGの創作の熱に浸るような体験となりました。

Client:
MHD モエ ヘネシー ディアジオ株式会社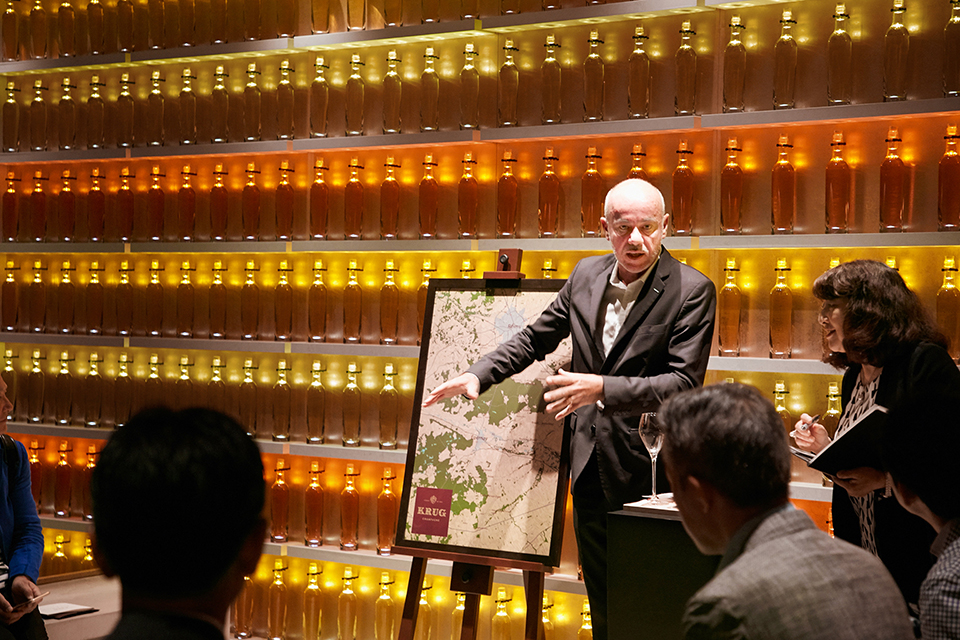 KRUG HOUSE 2019
Date:2019/6/4, 5, 6

Venue:
IWAI OMOTESANDO

Contents:
We produced "KRUG HOUSE" hosted by Oliver Krug, the sixth generation of the family to oversee the Prestige Cuvee house, Maison KRUG, and its Cellar Master, Eric Lebel.
The house was created to realize its spirit of Maison.
Amano Creative Studio Inc. was involved entirely, from the planning, choreographing, production, and organization of the event. At the house, the guests enjoyed a dinner by Ryuta Iizuka of Ryuzu, presented with KRUG, and at the lecture on the assembrage of KRUG in the tasting room, guests enjoyed an installation that we produced featuring a musical piece created by IRCAM together with KRUG.
Eric Lebel talked about the history of KRUG and the grapes of the Cuvee house, shown on a map specially created for the KRUG HOUSE.
It was an experience that overwhelmed everyone with creative KRUG passion.

Client:
MHD Moët Hennessy Diageo K.K.