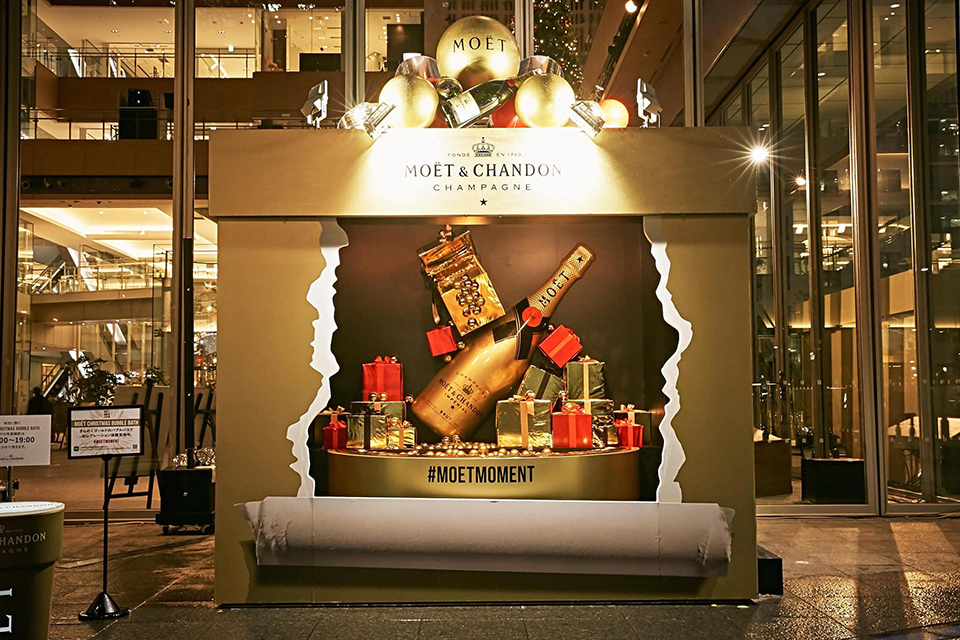 MOËT CHRISTMAS MARCHÉ
Date:2016/11/24 - 12/25
weekday/17:00 - 22:00
Saturday/14:00 - 22:00
Sunday & Public Holiday/14:00 - 20:00

Venue:
丸ビル外講部

Contents:
丸の内仲通りのクリスマスイルミネーション点灯に合わせ、期間限定(約一ヶ月)で丸ビル外構部にMOËT CHRISTMAS MARCHÉを開催。イベントの企画・運営・プロデュースをさせていただきました。
エアストリームによる飲食店ブース「MOËT CHRISTMAS KITCHEN」やMOËT & CHANDONの限定グッズやボトル販売の物販ブース「"MOËT CHRISTMAS SHOP" 成城石井ポップアップストア」、フォトインスタレーションブース「MOËT CHRISTMAS BUBBLE BATH」を設置し連日多数のお客様にご来場いただきました。
また、期間中には丸ビルマルキューブ内ガラス面にMOËT & CHANDON今季(2016 冬)のブランドテーマでもある「花火」を、プロジェクションマッピングにて映像演出いたしました。

【出店店舗】
●MOËT CHRISTMAS KITCHEN
・「アロセリア サル イ アモール」
・ピッツェリア エ トラットリア「ダ ジョルジョ」
・「Sarabeth's(サラベス)」

●"MOËT CHRISTMAS SHOP" 成城石井ポップアップストア

Client:
MHD モエ ヘネシー ディアジオ株式会社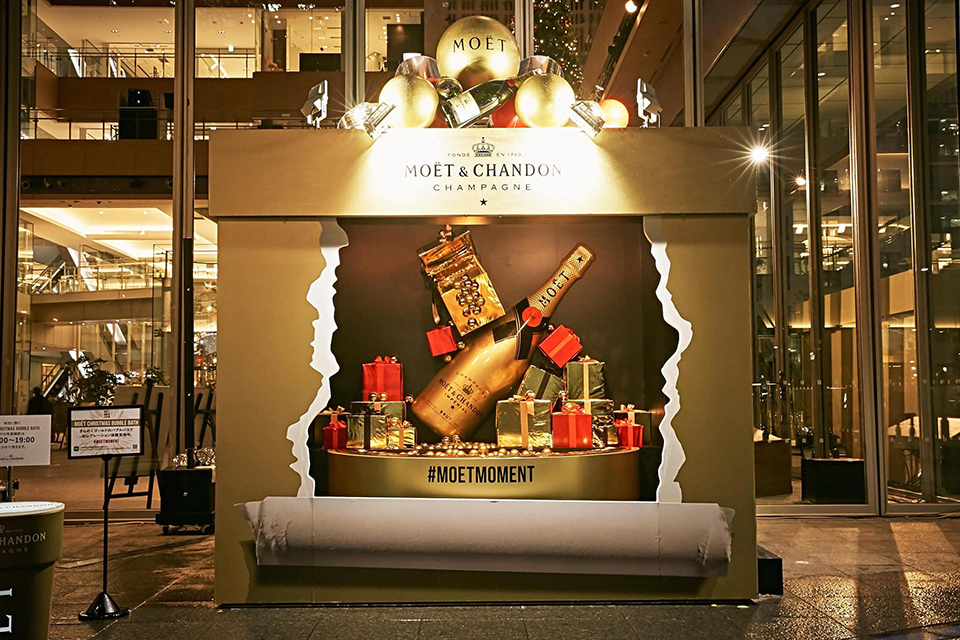 MOËT CHRISTMAS MARCHÉ
Date:2016/11/24 - 12/25
weekday/17:00 - 22:00
Saturday/14:00 - 22:00
Sunday & Public Holiday/14:00 - 20:00

Venue:
External open area of Maru Building
( A project carried out with Mitsubishi Estate Company Limited in search of new ways of using the external open area of the Maru Building. )

Contents:
In order to pursue the goals of the MOËT & CHANDON brand , we worked and consulted with the company for the winter season. We planned, produced, and managed "MOËT CHRISTMAS MARCHÉ 2016", corresponding with the Christmas illumination at Naka Dori in Marunouchi.
We set up the 2 food booths, "MOËT CHRISTMAS KITCHEN", in AIRSTREAM vans together with a goods stand, the "MOËT CHRISTMAS SHOP", selling limited edition products and champagne bottles, with a photo installation booth called the "MOËT CHRISTMAS BUBBLE BATH".
All our many guests fully appreciated all the booths. During the event, we presented a projection mapping of "fireworks" which is the brand theme of MOËT & CHANDON 2016 winter collection on a huge glass wall at the Maru Cube of the Maru Building.

Client:
MHD Moët Hennessy Diageo K.K.